The North of England Wedding Awards
Posted on
Well, firstly, welcome to my new blog! It's going to be somewhere for me to share ideas, news, information and all sorts of wedding related 'stuff' :)
So my first post is about the 'North of England Wedding Awards'!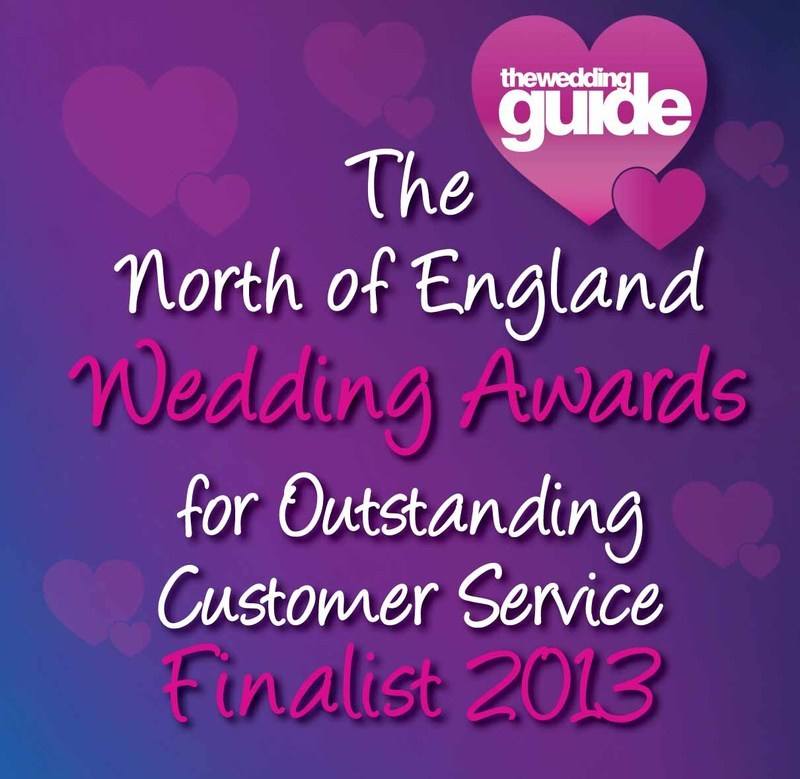 Wedding Awards are a funny old business, and it has to be said that some aren't quite what they seem. Some charge companies to enter, and some even allow businesses to 'buy' an award! Others ask for votes, but allow votes from anyone, with no limit to how many times each person can vote. Others only allow the companies who attend the awards ceremony to win, so if you can't make it - or don't want to pay a small fortune for tickets - you don't stand a chance of winning. Not really the best way to judge!
The North of England Wedding Awards are rather different, and we are really proud to say that this year we were finalists in the 'Wedding Suppliers' category for the Yorkshire region. We didn't win, but the nominations we received from our brides and grooms were absolutely amazing, and just making it through to the final was wonderful.
The awards work by accepting entries and nominations for businesses. Clients then provide feedback and finalists are selected. Only genuine brides and grooms can vote, so it really is a very honest and genuine way of doing things. The judges then have the very hard task of selecting a winner!
This years awards ceremony was held on Monday September 9th at the National Railway Museum in York. It was very well attended and though we couldn't make it this year I spent the evening following the evenings events on Twitter, along with some other rather nervous finalists! Maybe if we are lucky enough to make it through to the final again next year we will have to go along and enjoy what certainly looked like a great night!
After the awards ceremony all finalists are provided with details of the clients who took the time to send nominations. It is always lovely to hear that our customers have been happy with what we have done for them and reading through all the wonderful feedback was a real treat. I wanted to share some of the comments with you here, and say a huge 'Thank you' to everyone who took the time to nominate Lovely Weddings :)
'The services from Lovely Weddings are fantastic. We had our chair covers, swags, fairy lighting and table decorations from this company and would recommend them 100%. They are very personal and give excellent attention to detail.'
'I had over 100 chairs to dress and only a week and a half notice to give but Sarah from Lovely Weddings was brilliant and catered for my needs with ease and efficiency at such an affordable price. She kept me in the loop with everything and she absolutely transformed my marquee. Reliable and affordable and absolutely stunning.'
'The chair cover were beautiful and the service, price, communication and quality were fantastic, I will definitely recommend to friends and family.'
'Sarah was very helpful when I was looking for chair covers, she offered advice and suggestions. On the day I didn't have to worry about anything, the chairs looked fab when I arrived and were gone the next day, just what I needed on my day - no additional stress or worry!'
'We think that [email protected] deserves to win because she dressed our venue beautifully and was 100% committed to making our day special.We would highly recommend lovely weddings to anybody.'
'Sarah at Lovely Weddings provided us with the chair covers for our wedding. It was fantastic value for money, brilliant communication throughout the preparations and we were so pleased with the room once she had finished. The colours matched our colour scheme perfectly and we received a friendly and professional service. I would highly recommend Lovely Weddings!'
'Sarah at lovely weddings was amazing...she took all the stress out of decorating our venue. Excellent communication in the run up to the wedding and made our venue as we expected it to be. Many thanks'
'Sarah went out of her way to provide me with what I needed, and was very flexible when some of the details changed. She kept in contact throughout, even sending us a lovely christmas card.'
'Sarah Wan at Lovely Weddings (Pontefract)Did an outstanding Job with chair coverings for our venue, she offered a value for money service - including fitting and collection of covers and sashes, but made the room look quality, she was also very friendly and professional I would recommend her services to anyone.'
'Sarah was absolutely fantastic. She was able to cater for our needs and managed to find the perfect colour match for our scheme. We were very happy with the product and they really added to the decoration of the venue. The price was very reasonable and we wouldnt hesitate in recommending this company to family and friends for their special day in the future.'